Introducing the ANO37 Boutique Advanced, an exclusive wholesale product line designed to elevate your business. Unveil a realm of skincare excellence with this meticulously crafted collection, featuring our luxurious skin cleansing bar collection complete with UPCs for effortless inventory tracking.
INCLUDES:
(12) ANO37 Omega-Infusions Cocoa/Jojoba bars (boxed with UPC)
(12) ANO37 Plant-Infusions Sea Buckthorn/Acai bars (boxed with UPC)
(12) ANO37 Plant-Infusions Lavender bars (boxed with UPC)
(12) ANO37 Plant-Infusions Vanilla/Nutmeg bars (boxed with UPC)
(6) ANO37 Variety Packs - featuring one each of our ANO37 Omega/Plant-Infusions collection skin cleansing bars. Inside labeled box with UPC are individually packaged bars in eco-friendly parchment (non-UPC labled-not for individual sale).
Elevate your inventory, captivate your clientele, and embark on a journey of opulence with the ANO37 Boutique Advanced. Subscribe to our mailing list to stay updated on the latest news and exclusive wholesale discounts. 
Regular price
$640.00 USD
Regular price
$729.00 USD
Sale price
$640.00 USD
Unit price
per
Sale
Sold out
skin type

Suitable for all types of human skin.

Discontinue use if irritation or rash occurs.
soap care

Using a soap saver designed for maximum air circulation around the entire bar can largely assist in its longevity.
please recycle

Our packaging consists of post-recycled or recycable materials.
Share
View full details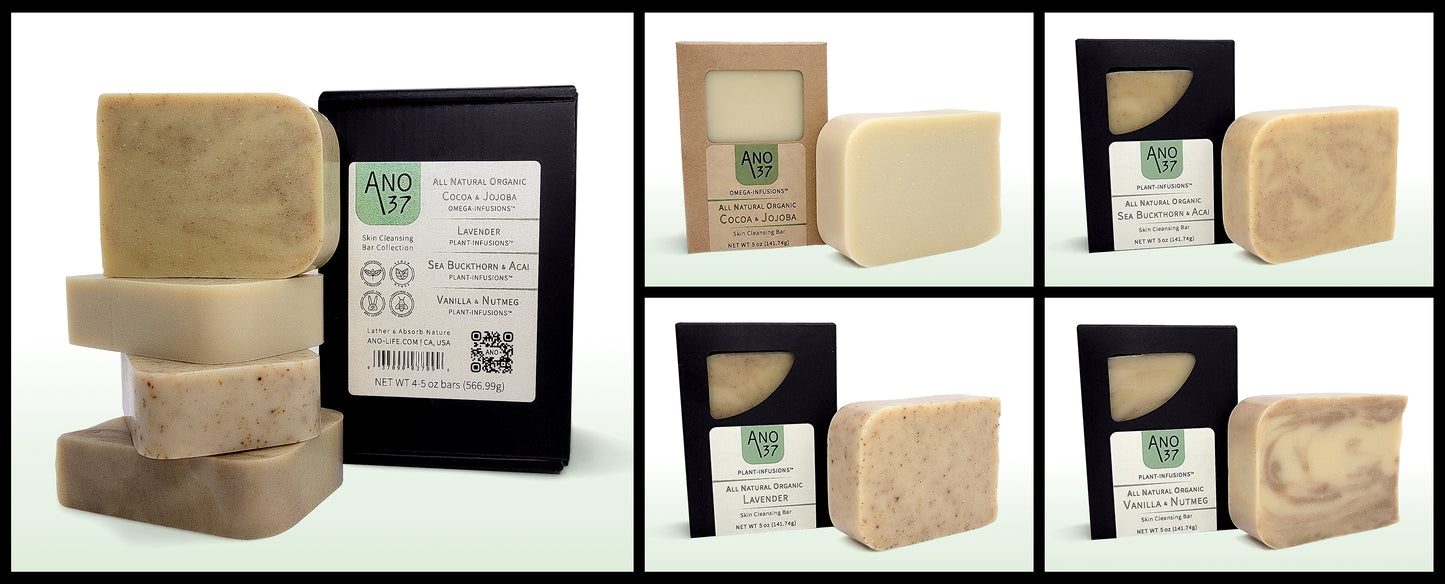 Organic Us
Welcome to ANO LIFE™ a gateway to a forgotten era of All Natural Organic living. In a world where industrial chemicals and synthetic additives have dominated our beauty and skincare products for decades, we emerge as a beacon of change. Our mission is simple yet profound: to reclaim the purity of nature and restore the well-being of our bodies and planet.
At ANO LIFE™, we take immense pride in our meticulously crafted cleansing products, meticulously created to embody the essence of All Natural Organic goodness. With each use, our products invite you to immerse yourself in a sensory journey, lathering and embracing the true power of nature.
Our commitment extends beyond skincare – it's a pledge to make a difference. With every ANO product, you join us in our eco-conscious endeavor, as we strive to safeguard our Earth, one bar at a time. Embrace the ANO LIFE™ and be part of a revolution that nurtures not only your skin but also the world we call home.
sustainable resourcing