ANO37 Plant-Infusions™
Omega-Infused Cleansing Bars With Additional Plant Nourishment.
5 oz. bar
Vendor:

Regular price

Sale price

$12.50 USD

Unit price

per

Vendor:

Regular price

Sale price

$9.50 USD

Unit price

per

Vendor:

Regular price

Sale price

$11.50 USD

Unit price

per
INGREDIENTS
Revitalize your skin with our ANO37 All Natural Organic Plant-Infused Cleansing Bars, enhanced with Nordic Sea Buckthorn from Finland's pristine landscapes. Expertly handcrafted, these bars offer a gentle exfoliating cleanse that rejuvenates the skin. Immerse yourself in the luxury of USDA Organic, Fair Trade plant oils, and pure All-Natural ingredients, all delicately blended into this remarkable bar.
Moisturizing ▪ Natural Scent ▪ Zero Fragrance Oils ▪ Zero Essential Oils ▪ Vegan
Lather & Absorb Nature


ANO37 Plant-Infusions™ Sea Buckthorn | Acai
Coconut Oil (organic), Olive Oil (organic), Water, Food Grade Sodium Hydroxide, Cocoa Butter (organic),  Hemp Seed Oil (organic), Jojoba Oil (organic), Castor Oil (organic), Food Grade Citric Acid, Sodium Lactate, Kaolin Clay, Alaea Sea Salt, and Infused Coconut Milk, Sea Buckthorn, Acai Powders (organic).

Product of the USA

ANO37 Variety Pack
Regular price
Sale price
$39.50 USD
Unit price
per
Sale
Sold out
Share
View full details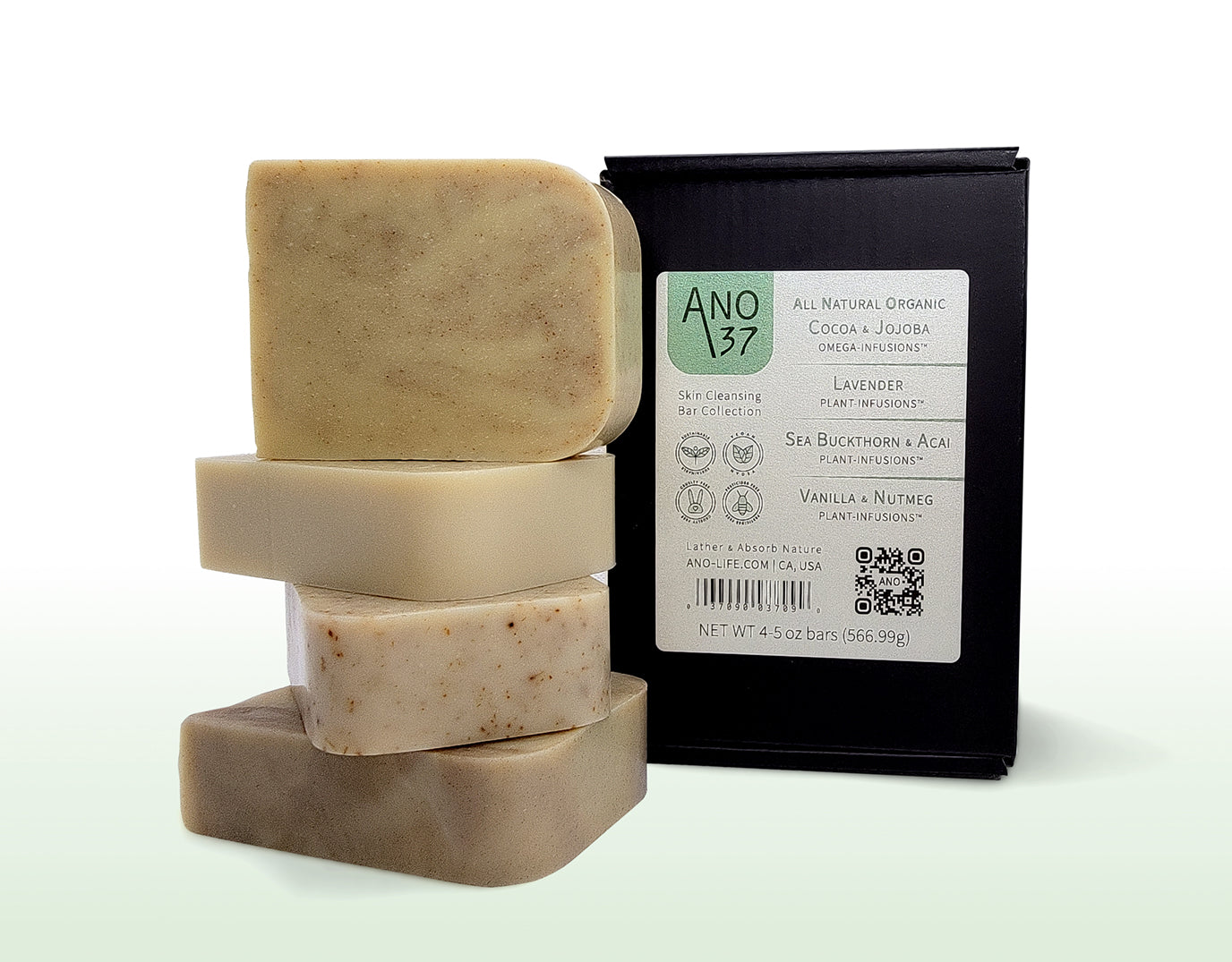 ANO37 Omega-Infusions™
Omega-Infused Cleansing Bars
5 oz. bar
Vendor:

Regular price

Sale price

$1.00 USD

Unit price

per

Vendor:

Regular price

Sale price

$7.50 USD

Unit price

per
INGREDIENTS
Indulge in the pure luxury of our ANO37 All Natural Organic Omega-Infused Cleansing Bars. Meticulously handcrafted, these bars are a harmonious blend of premium ecologically sustainable ingredients sourced globally from the natural world. Immerse yourself in the goodness of USDA Organic and Fair Trade plant oils, combined with an exquisite selection of All-Natural components. Elevate your cleansing routine with a touch of nature's finest.
Moisturizing ▪ Natural Scent ▪ Zero Fragrance Oils ▪ Zero Essential Oils ▪ Vegan
Lather & Absorb Nature


ANO37 Omega-Infusions™ Cocoa | Jojoba
Coconut Oil (organic), Olive Oil (organic), Water, Food Grade Sodium Hydroxide, Cocoa Butter (organic),  Hemp Seed Oil (organic), Jojoba Oil (organic), Castor Oil (organic), Food Grade Citric Acid, Sodium Lactate, Kaolin Clay and Alaea Sea Salt.

Product of the USA

Natures Benefits
cocos nucifera

Coconut oil is stored with lauric acid which has antimicrobial properties and deep cleansing abilities that can help combat against a variety of harmful microorganisms found on your skin while keeping you moisturized.

theobroma cocoa

Cocoa butter creates a protective barrier that can help hold in moisture and prevent skin from drying. It also contains polyphenols with several positive indicators which may help skin health, including better collagen retention production and improved skin tone.

olea europaea

Olive oil can help relieve dry skin and irritation from both psoriasis and eczema. Naturally high in oleic acid olive oil can also help to protect skin against free radicals to maintain smoothness and firmness.

simmondsia chinensis

Jojoba oil contains natural forms of antioxidants like vitamin E and B-complex that can help with skin repair, damage control and contributing to the skin balancing natural oil productions.

seed of cannabis sativa

Hemp seed oil is loaded in linoleic and linolenic acid which may be the most essential ingredients to help skin repair barrier damage by rebuilding and strengthening.

ricinus communis

Castor oil is rich in ricinoleic acid that can act as occlusive moisturizers which may help to prevent or reduce water loss through the outer layer of the skin. Known to have anti-inflammatory and pain-reducing properties that may assist in skin healing.
The information provided on this website is for general purposes only and should not be considered as medical advice or a substitute for professional consultation. Our products are non-medicinal and are intended for personal care and wellness enhancement. Individual results may vary, and it's essential to consult a qualified healthcare provider before making any significant changes to your routine, especially if you have underlying health conditions or are taking medications. Please use our products responsibly and in accordance with their intended use. If you experience any adverse reactions, discontinue use and seek medical attention immediately.
ANO LIFE Plant-Infusions™
Upcoming 2023
ANO33

Plant-Infusions
Blueberry | Papaya

ANO35

Plant-Infusions
Gojiberry | Dragon Fruit

ANO37

Plant-Infusions
Sea Buckthorn | Acai

ANO39

Plant-Infusions
Spirulina | Chlorella
ANO LIFE Omega-Infusions™
Upcoming 2023
ANO33

Omega-Infusions
Argan | Apricot

ANO35

Omega-Infusions
Mango | Sunflower

ANO39

Omega-Infusions
Shea | Avocado
more to come...participate in earths greener future